Good afternoon!
On September 9, Switzerland released its unemployment rate. The result came out at +2,1%, which is a stable figure.
Picture 1. Unemployment rate s.a.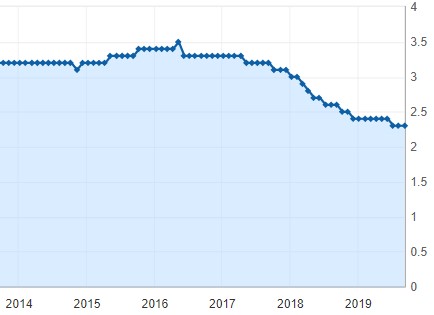 That was expected, hence the Swiss franc almost didn't react to the statistics.
The most important news of this week comes out on Thursday. The ECB is going to release its interest rate decision. Everybody expects the ECB to approve additional stimulus measures. The first thing that the market expects from the ECB is QE. Also, there is a possibility that the ECB will cut the interest rate, making it negative.
Consequently, the euro may skyrocket if the European central bank refrains from monetary policy easing. The ECB press conference will start at 12-30 GMT.
European trade balance comes out on Friday 13. The forecast is +17,4B against the previous result of +20,6B, which shows that the economy is slowing down.
Meanwhile, we analyzed the cross pair EUR/CHF around 3 weeks ago. The situation has changed, and here are new technical features that may affect the further movement.
Last time we said the EUR might break the trend line and rise. The target, which we noted, was 1,09865. This scenario wasn't realized. The EUR/CHF pair bounced from its resistance line and continued falling. The Euro started its correction on Wednesday, September 4. The pair reached 23,6% Fibo correction level.
Picture 1. EUR/CHF 1D TF
On 4H TF, there is a possibility that the pair might go lower before bulls try to break the resistance. Indicators hint at the soon reversal in the short term. The MACD line is trying to break the signal line. The 9-EMA reversed. Shorting is an option for aggressive traders. The support lines are at 1,09080 and 1,08900.
Picture 2. EUR/CHF 4H TF