Today, IMF released its regional economic outlook for Europe, which predicts that growth will slow from 2.3% in 2018 to 1.4% in 2019. This is the lowest rate since 2013. Growth is expected to go up to 1.8% in 2020. The IMF warns and urges the European Union to come up with emergency plans in case of increasing economic difficulties. Brexit, trade war, and geo-politics remain the main obstacles. European Central Banks are advised to remain accommodative, at the same time the situation must be closely monitored as low interest rates for long periods of time may burden some financial sector. Germany and the Netherlands that have had budget surpluses, are called on to help with stimulus.
On a daily TF, the EUR/USD pair rebounded from an important level of resistance again on Monday. This level coincides with the 200EMA, and trend down has lasted since April of 2018. The Parabolic SAR is pointing down, the MACD reversed, the bearish histogram is growing. The 9EMA is pointing down, the pair is using the 50EMA as support in the area of 38.2% Fibo, around 1.10852. If this turns out to be a real double top, then we are at the neckline conversion, waiting for an impulse confirmation breakout.
Resistance: R1 23.6% Fibo 1.11086, R2 1.11283, R3 1.11755.
Support: S1 50% Fibo 1.10293, S2 1.10 – 1.099939 (61.8% Fibo), S3 1.09259.
On a Daily TF, the GBP/USD pair is showing us a similar picture, although a more subtle one. The pair is trading more flat as one of the most unpredictable British elections launches its start. The pound is likely to be volatile throughout the campaign. We can see the launch of a double top pattern that caused MACD to reverse. Yesterday, the Parabolic SAR began to point down, and, although there have been dojis with a piercing 9EMA for the past two days, the MACD bearish histogram is growing.
Resistance: R1 1.30125, R2 1.31765
Support: S1 23.6% Fibo 1.27637, S2 38.2% Fibo 1.26098, S3 50% Fibo 1.24854.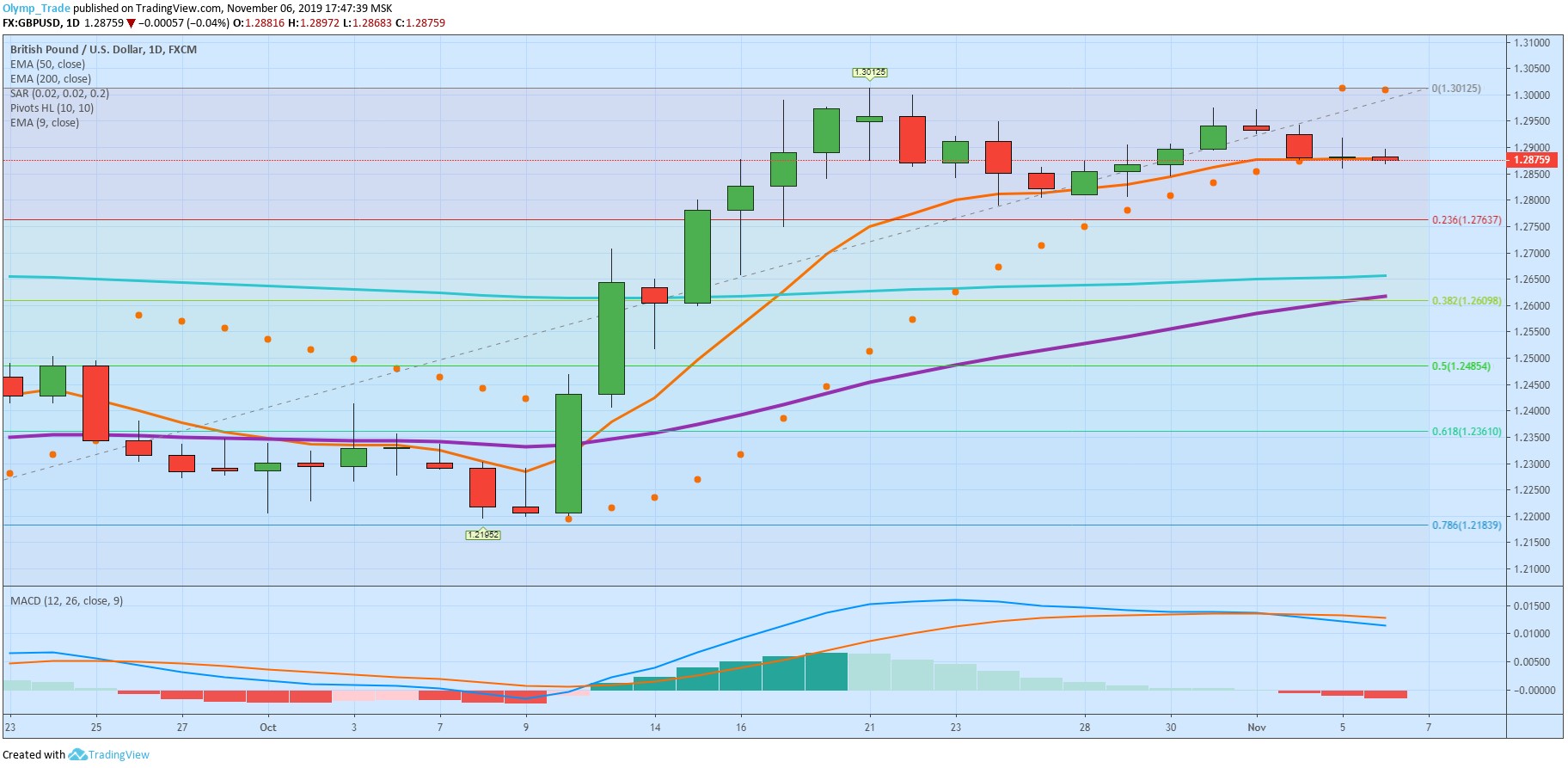 The USD is trading slightly bullish on optimism of the phase one of the trade deal between the United States and China. The two sides are putting everything to paper and negotiating on a new venue for the signing the agreement.
On a daily TF for USD/JPY, the Parabolic SAR is pointing up, the price broke above the 9,50 and 200EMA. The price is now hovering below 61.8% Fibo around 109.018.
Resistance: R1 61.8% Fibo 109.362, R2 109.705, R3 110.679.
Support: S1 50% Fibo 108.423, S2 38.2% Fibo 107.484, S3 23.6% Fibo 106.323.